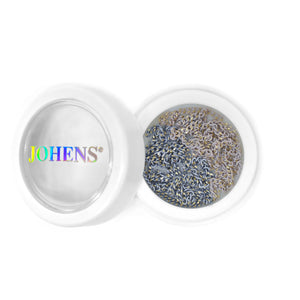 JOHENS®
Vintage Chains #01
Sale price Price $7.50 Regular price
Easily incorporate tiny, metal nail art chains into your nail designs for quick yet fancy manicures.

JOHENS Vintage chains that comes in a 12 inch / 30 cm length can be cut down to the exact size needed for your nail art design. 2 different colors together. Easy to apply and seal with either top coat, glue, gel or acrylic.

Chains Length:
12 in / 30 cm

Thickness:
0.85 x 1.60 mm flat

Color: grey with gold abrasion and nude with gold abrasion

With Johens quality control seal.

Instruction for gel:
1. Apply base gel and/or color gel then cure.
2. Cut chain to desired length and place over uncured adhesive gel
3. Cure with UV/LED lamp
4. Seal off with gel topcoat & cure.

Please note that due to difference in monitors/displays, pictures may vary in color.