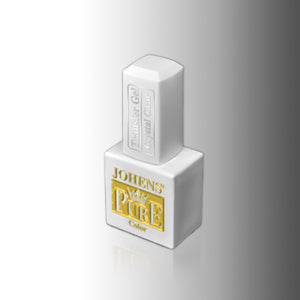 JOHENS®
PURE ~ Transfer gel - Crystal clear
Sale price Price $15.99 Regular price
Johens® PURE ~ Transfer Gel is the perfect companion to transfer foils!

- THE NEWEST Generation Transfer gel on the market!
- HYPOALLERGENIC
- Healthy ingredients
- 9 FREE formula
- Vegan
- Cruelty Free
- Soak off removal
- Perfect cover transfer
Our specially formulated soak off gel transforms into a sticky layer after curing that will allow full cover transfer from nail foils. Use it to transfer any foil designs, from lace, to chrome & holographic foils! Like all Johens gels, Transfer gel is 100% professional grade gel and made from top quality European ingredients.

Application:
- Apply an even coat over any gel color (make sure to cleanse off the tacky layer of the base gel color prior to applying our Transfer Gel).
- Cure with LED lamp for 60 seconds, or UV lamp for 2 mins.
- Stretch nail foil onto sticky layer, and press down firmly to make sure the foil comes into contact with the entire nail surface.
- Gently peel nail foil back, the transfer layer will stick onto gel surface.
- Seal with our Johens Top Shine or Silk to achieve Matt surface.
(Tips: Make sure to put the correct back side of the foil paper against your nails so the design can be transferred! You can also press the foil again if small parts of the foil did not get transferred the first time.)

Cure time: (depending on light)
LED 36w ~ 60 seconds
UV 36w ~ 120 seconds

Size: 10ml / 0.33fl.oz
Color: Crystal clear
With Johens quality control seal.
Troubleshooting:
-Do not turn transfer any foil design it all:
That's means your lamp is not enough strong to cure the gel (different lamps come with different wavelength. The best lamps have to be: 365nm-405nm)
-Transfer designs partially but not fully :
 That can be because you applied on sticky surface. When you applied the Transfer gel your brushstroke mixed up the sticky layer of base color that's made the shiny effect.
You did not press down the foil to the surface firmly ( especially around cuticle area or the side walls)
-Wrinkled surface:
You applied too much of the gel, please try to apply less.
For professional use only! Keep out of reach of children. Discontinue use if sensitivity or irritationoccurs. Avoid direct sunlight or extreme exposure to LED or UV lights.