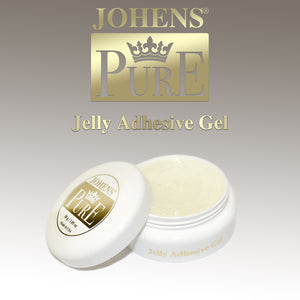 JOHENS®
PURE ~ Jelly Adhesive gel ~ 30g / 1.05oz
Sale price Price $38.00 Regular price
PURE ~ Jelly Adhesive soft gel 30g / 1.05oz
Safety formula / Hypoallergenic material 
Recommended for E&Go system
Benefits:

As our signature E&Go Adhesive Gel has just gotten even more nail friendly! 

Excellent soft density and jelly like properties ensure a easy application.
Fill your costumer nail with Jelly Adhesive gel during the tip application to avoid gap between nail plate and tip or avoid the unproperly applied tips.
provide a perfect solution for tip application on a concave stile nail plate .
no leaking when you apply tips on the nail plate 
Formulated using oligomers that result in a safe and hypoallergenic product for clients. 
HEMA free formulation. What does that mean?
-less chance for allergic reactions
-less additives to the gel 
-more freedom to use E&Go system application confidently on a wide variety of clients!

Now anyone and everyone can confidently experience our revolutionary E&Go system without worry of allergy or irritation!
Excellent light jelly properties ensure an easy application and imperfections.
Thanks to the popular thicker consistency is really easy and fast to work with. Perfect harmony of its qualities make this gel the best solution for you! 
It hardens in 120 seconds in normal UV light devices and in 60 seconds in LED light curing units.  All are subject to the high demands of USA and European standards and are on the cutting edge of the UV-gel LED research manufactured.
PERFECT GEL FOR YOU:
REDUCED HEATING
NO LEAKING INTO THE NAIL BED
EASY AND FAST APPLICATION
IDEAL FOR ALL SOFT GEL TIP APPLICATIONS
SAVES TIME
OPTIMAL FLEXIBILITY
PERFECT ADHESION
UV-LED-CCLF lamp
ACID FREE
HEMA FREE, VEGAN 
HYPOALLERGENIC FORMULA
30g  in jar
color: clear
Cure time in UV lamp 2 mins, in LED: 60 sec.
Due to monitor differences, the color might be slightly different from the actual item.
For professional use only! Keep out of reach of children. Discontinue use if sensitivity or irritation occurs. Avoid direct sunlight or extreme exposure to LED or UV lights.