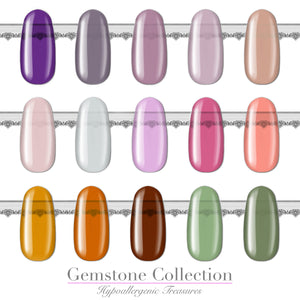 JOHENS®
PURE ~ Gemstone Collection
Sale price Price $269.85 Regular price
30% off with discount code: JHNS30 
 15 different colors of Gemstone Gel polishes in collection: PURE #026, #027, #028, #029, #030, #031, #032, #033,  #034, #035, #036, #037, #038, #039, and #040
Johens® PURE ~ Gel polish is 100% pure soak off gel 

with 100% self-leveling formula without shrinking effect.
The Newest Innovation in the Nail Industry in the world exclusively from JOHENS®
Made in USA  (California, 2021 Fall)
Formulated to coat and protect the natural nail PURE delivers ease of application along with maximum control. PURE is the perfect choice for a long lasting gel manicure or pedicure.
HYPOALLERGENIC formula as all JOHENS® PURE gels
Benefits of PURE Gel Polish:
Doesn't dry or out the natural nail because it contains no solvents
Creamy consistency applies without running
Layers can be floated on & applied thicker to self-level for smooth even coverage 
No need to apply super thin does not wrinkle when curing 
Healthy ingredients, 9 Free formula
Vegan
Cruelty free / Not tested on animals, only on humans :)
Highest quality of NANO pigments for unique colors that stay true
100% gel offers more strength and durability than most half-polish hybrid gel polish
Easy soak off removal
UV lamp: 2 minutes
LED lamp: 30-60 secs / depending on your lamp /
gels are in NET 10 ml / 0.33 fl.oz
With JOHENS® quality control seal.
For professional use only.
Store in a cool, dark place away from any direct light sources for longevity.
Due to monitor differences, the color might be slightly different from the actual item.