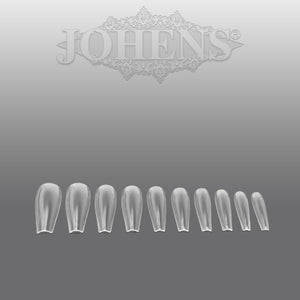 JOHENS®
"Press On" tips - Long Coffin
Sale price Price $15.50 Regular price
Faux full cover tips in Long Coffin shape for custom 'press on" nails

Ideal for make unique masterpieces
500 pcs / set in the Johens resealable set bag 
10 different sizes witch is which is individually numbered 0-9 
Moderate thickness at the cuticle part and firm & thick at the free edge
Color : Clear 
Glue: Press On Nail Glue
High Quality ABS Material- The nails are made with high quality ABS material, which is thick and sturdy enough to last about 2-3 weeks.

What's more, ABS is a kind of healthy and friendly material, providing you a safe and comfortable nail doing experience.

C-curved Design-

These strong fake nails are designed with clear color and full cover shape with moderate length and thickness.

You can wear them long or clip them short, or design your own style and pattern by adding nail art decorations. Easy to shape, file, paint and apply with gel, acrylic or fiberglass, making your tips magical and stylish.
Using Tips

Just use a brush-on nail glue on your nail is fully coated, this makes the tips stay on longer.

Apply of the Brush on glue to the nail beginning at the cuticle area and pressing forward slowly to eliminate any air bubbles 

& hold for 5 seconds. File and shape your new nails if needed.