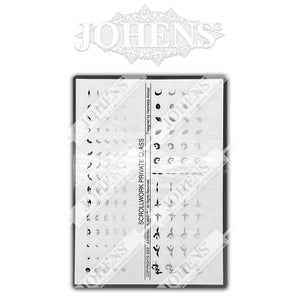 JOHENS®
Practice Sheet ~ Scrollwork Private Class
Sale price Price $75.00 Regular price
Practice Sheet for Nail Art ~ Scrollwork Private Class by Henrietta Almasi
This custom made trainer template including all essential stroke what you need to be able to make hand painted scrollwork nail art .
All design are made by Henrietta Almasi (hand painted patters) who is the International Master Educator of Scrollwork designs and this is what she teaching during her classes.
It's not simply a pre-drawn pattern template , it's a personal class to be able to master your hand painting designs from your home.
Nail art practice sheet is suitable for professional or home use. This item is manufactured with premium material for durable and long-lasting use. Washable / Reusable
The foiled page make possible the repeating practice because the materials can easily removed from the surface.
Quantity: 1 Sheet + 1 Disposable Mini Foil Sheets (in bag) 
Sheet Size: 8.5 x 5.5 in
Made in Califorina
Designed by Henrietta Almasi
For personal use only! (the person who purchased the practice sheet from me has the right to use it for their own needs but not as a business or for profit)
Reproduction of this Practice sheet for any reason shall be considered a criminal offense and shall entail legal consequences. The design and the finished item under Trade Marks (worldwide) 
COPYRIGHT© 2022 * JOHENS® * ALMASI™ * All Rights Reserved.