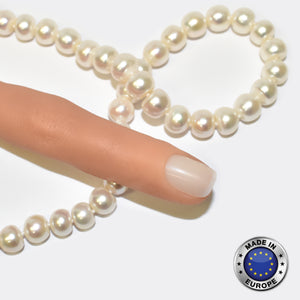 JOHENS®
Practice finger ~ Charlotte (Poseable Silicone)
Sale price Price $21.95 Regular price $34.95
 Charlotte / Poseable Silicone finger with beautiful lighter skin tone.
The most Realistic practice finger in the world !!!
All products are in stock, so we will deliver to you on the same day or the next working day !!!
Original price: $34.95      NOW: $21.95
This offer can not combine with discount codes!
Free Model tips including /no glue needed 
You will receive it with model tips (50pcs) /100% fit with the fingers no any extra work need to create a fit basement, those are ready to play.
100% High Quality Silicone with armature inside to fix finger in a desired position
We used this model to create our silicone fingers because she has a beautiful hand with straight and smooth position of fingers , and immaculate skin to make sure you can create perfect photoshoot of your masterpieces.
High Quality Silicone "Extreme Natural" (super realistic)
Beautiful skin imitation silky and soft. Touch the silicone fingers make same natural feeling as 
Fingers have a deep pocket under the cuticle area and matrix to make space to hold the model nails in the right place. No glue needed for model tips, just simply place it in the pocket, and ready to play. 
No holder needed.
You can use as display or practice nail art or even sculpting techniques .
If you want extending the nail, you can attaching long tip with glue ( or use E&GO Adhesive gel) on the model tip.
Easy to clean it. If you got dirt of dust ,lint, glitter or chrome etc., just simply wash it with soap and warm water , than let dry fully.
pocket deepness : 15mm
Two colors Available :
- Isabelle / darker skin tone
- Charlotte / lighter skin tone
Please note : colors are beautiful natural colors but could be slight different due to monitor.


Silicone fingers : Made in EU / Hungary
Set made in California