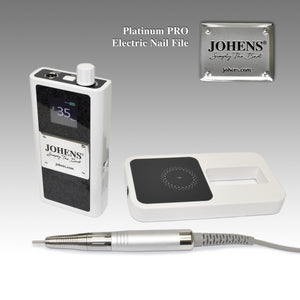 JOHENS®
Platinum PRO Electric Nail File
Sale price Price $345.00 Regular price $465.00
Platinum PRO
Vibration free. Noiseless. Powerful. Cordless. 
Professional Electric Nail File designed in the USA.
Platinum PRO is a powerful 35,000 RPM professional filing system providing for all Nail Technician to complete any nail service from a dry manicure to 3D Art.
Your Platinum PRO cordless electric file delivers incredible speed, power and durability! 
Come with a special handpiece what is  made of the newest innovation of brushless handpieces to give the most powerful job without vibration or voice.
Cordless e- file what give freedom and ability to work in places where there is not an electrical outlet nearby and the capability of doing multiple services before recharging.
Features
35,000 RPM
LCD Display , indicate speed and battery stage 
Lightweight 4.5oz Hand Piece
Superior work experience :  Smooth & Quiet Operation
Up To 10 Hour Battery Life
Battery recharging time: 2.5 hours
Cord free charging with QI Wireless Charger or cord charging 
Forward / Reverse Switch
Powerful Torque
Strong power : 80W
Fits Standard 3/32" Bits (not included)
Compatible w/ 110V and 220V

 (US plug )
Dimension: 19*8*14 cm handpiece: 15.3 cm 
Comes with hand piece stand 
Warranty
We offer 1-year manufacturer's limited warranty what don't need registration because will activated automatically when you order the items.
 Certificate: CE, ROHS
Warranty coverage includes any potential manufacturer's defect but not cover any event of an accidental damage... (liquid spills on handpiece, dropped controller or handpiece, broken bit get stuck in handpiece, clean bearings when they are full of powder or gel, damage in power cord... or problem of non proper usage) 
Johens® will not accept used products for return or exchange unless there is a manufactured defect with the item in question.
Shipping note: If you have any damage on the package , please do not accept the shipment or if you do please ask the delivery guy to record the issue and record in video yourself too where identifiable the tracking number,  because later only this way we are able help to you. 
Made in Japan