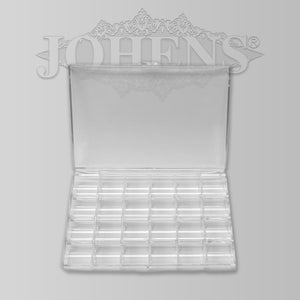 JOHENS®
Plastic Organizer Box (24 grids)
Sale price Price $11.75 Regular price $12.95
Finally a better way to arrange, re-arrange, and organize our crystals and charms!
Keep your beads, crystals, treasures, nail jewelry findings and tiny crafting supplies neatly stored and easy to find! This super-practical portable storage box has 11 clear compartments to help you conveniently sort items by color, size and shape.

Details:
- Clear plastic case
- Size: 7.25" x 5.25" x 1.10"
- 24 compartments 
With Johens quality control seal.