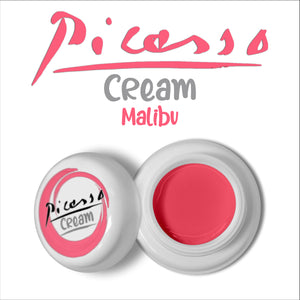 JOHENS®
Picasso Cream Art Gel ~ Malibu
Sale price Price $19.45 Regular price
Let me introduce you the BEST One Stroke gel in the world !!!
Short way : SIMPLY THE BEST

PICASSO CREAM it's a special dense painting gel that born to be the BEST of art gels for perfect One Stroke designs.

Special formula , rich of pigments as the original one but same time have a perfect density for easily make any One Stroke designs.
Thanks to the unique formula let able to paint more sophisticated designs too as the all big European artist educators do.

This product is absolutely necessary if you are a Nail Artist!

20% off with Discount Code: PC20
The PICASSO CREAM is the newest generation of Art gels, which can be used for painting one stroke nail arts easily. Extremely high pigmentation, dense, which covers well in a very thin layer, as you even don't imagined . There is no time limit, you can work with it long as you'd like.

Use for One Stroke technique, Zhostovo technique, Transitioning nail art, Highlighting and Shading.

Cure time: 1-2min in LED and 2-3 min in UV light.

We do recommend to coat the finished designs with Colour It! Top Shine

Size: 5g / 0.21oz
And if you need one more reason why to buy right now: 
+ 20% extra volume of gels was filled in the introducing batch as extra gift for you !!!
Available on limited time to the batch what we produced already.

Color: Coral
Density level: 9/10 (lower number is the fluid like and higher number is the most density)
 Made in USA