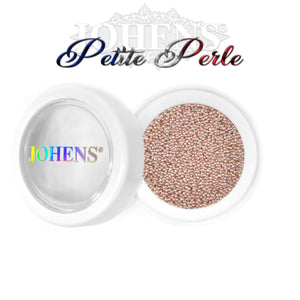 JOHENS®
Petite Perle #12
Sale price Price $4.50 Regular price
The Petite Perle implies the highest luxury. The same meaning follows when you use the caviar manicure beads for nail art. This newest trend is fast catching up. The tiny beads offer a fine texture on the nails. They are available in sets of different colors, so you can do fun experiments in applying them. Use as many combinations as your heart suits. You can use two colors alternately, or you can use a different shade for each nail. You can also use three shades randomly on your nails, or as many shades as you want. If you want to be really creative, consider using two bead shades on the same nail. If you have the necessary patience, you can also design bead patterns on each individual nail by carefully using two contrasting shades. 
Simply glue in place of paint nail with top coat and while still wet, place bullion beads where desired - you can create dainty flowers, cool french manicures or wild style designs!  Then just seal with top coat or for long lasting designs seal with clear acrylic or clear gel and enjoy!

Size:  Ø 0.7 - 0.8 mm

Color name: Soie

in 2g (by volume) Johens jar / approx.: 4.5g / jar
with Johens quality control seal
JOHENS® SMARTIES (did you know?):
5 Beautiful French Words You'll Love Saying
Known by most of the world as the language of love, French is known for its beautiful phrases filled with rolling R's, soft S's and somewhat sophisticated pronunciation. But, when you break things down, you start seeing that most of the language's beauty comes from its individual sounds and words. When enunciated properly, French almost seems to roll off your tongue and evokes a sense of beauty simply by speaking it. Today, we're going to look at 5 beautiful French words that are great for practicing your pronunciation;

1. Petite perle (little pearl)

The French word for "petite" or "perle", may not be one of the most commonly used French words, however, it certainly are a beautiful words to speak. 


2. Coquillage (Seashell)

If you've ever been to the beautiful beaches in the South of France, then you've more than likely noticed a coquillage. While collecting a coquillage or two is a great way to bring home memories from your days at the beach, it's also an excellent word to add to your French vocabulary that simply rolls off the tongue when you say it.

3. Parapluie (Umbrella)

Here's another beautiful French word that could come in handy on a rainy day. When there's rain in the forecast, you're going to want to make sure to bring your parapluie when you leave the house.

Parapluie is actually a compound noun made up of para, which means protection, and pluie, which means rain. Therefore, an easy way to memorize the word is to remember that parapluie literally means protection from rain.

4. Je t'aime (I Love You)

It was impossible to leave this French essential off of our list. Your use of the language of love would not be complete without these two little words meaning "I love you".

For some people, these three words might be a little bit scary to hear, however, the French use je t'aime just about as often as they say hello and goodbye.

5. Papillon (Butterfly)

Papillon is another word that sounds just about as beautiful to speak as it is to see in real life.

The French word for butterfly, papillon, gently rolls of your tongue as you say it and by sprinkling it into your newfound vocabulary, you'll sound like a native French speaker in no time.

Au revoir!