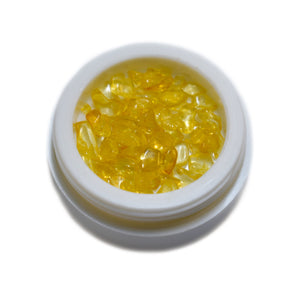 JOHENS®
Natural Gemstones - Citrine
Sale price Price $9.45 Regular price
GENUINE Citrine
Add beautiful natural gemstones to your nails!
These natural gemstone pieces can be adhered to your nails with gel or acrylic for long term wear, or clear top coat if you only want to wear it for a short while. Easy to apply on natural or artificial nails.
It makes your nails look elegant and exceptional.
Apply each one separately.
 Natural gemstones are delivered to us courtesy of nature and have absolutely no interference from humans other than being mined, cut and polished. By the time they appear in our jewelry, natural gemstones will look much different than their original form.  These stones has not been treated, enhanced or altered artificially.
 Sunny Citrine has a joyful vibration that transmits outward to those nearby, making it ideal for any setting. Working with Citrine can help one to overcome depression, release anger, and learn effective communication skills. Citrine can activate one's imagination, bringing more creative visions to a clearer mind. It can enhance one's optimism in any situation, bringing a more positive outlook into the conscious and subconscious mind, which allows one to step into the flow of things with better results. Citrine is often credited with attracting synchronicity by opening the mind to new ideas, discerning which are most likely to succeed, allowing those to develop, and following through with them to their happy conclusion.

Powered by the Sun, Citrine warms, cleanses, and energizes. Highly protective, Citrine makes a great tool for transmuting negative energy. Citrine heightens self-discipline, attracting professional success and wealth. Most often associated with the Solar Plexus Chakra, Citrine can also be used to cleanse all Chakras. Citrine will help support the energy of a family environment at work or at home.

Physically, Citrine can support and enhance healing for the spine, the digestive and elimination organs, and the metabolism. Citrine can facilitate detoxification and stimulate circulation. Often used for chronic fatigue, Citrine has a reputation of being able to increase energy and drive. This property can also help those who are trying to lose weight, by encouraging one to be optimistic about achieving their goals.


(Please note that each gem is unique in shape and coloration, the pieces you receive will not have the exact appearance as display photo.)
Color: Citrine
1x in 2g (by volume) Johens jar / approx.: 2g/jar
Each jar contains roughly 2 grams of 2mm - 8mm sized pieces.
With Johens quality control seal.