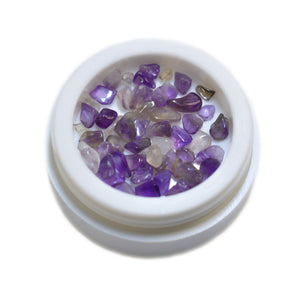 JOHENS®
Natural Gemstones - Amethyst
Sale price Price $9.45 Regular price
GENUINE Amethyst
Add beautiful genuine gemstones to your nails!
These natural gemstone pieces can be adhered to your nails with gel or acrylic for long term wear, or clear top coat if you only want to wear it for a short while. Easy to apply on natural or artificial nails.
It makes your nails look elegant and exceptional.
Apply each one separately.
 Natural gemstones are delivered to us courtesy of nature and have absolutely no interference from humans other than being mined, cut and polished. By the time they appear in our jewelry, natural gemstones will look much different than their original form.  These stones has not been treated, enhanced or altered artificially. 
Amethyst is a very powerful and protective crystal, and is a first choice of many metaphysicians. Amethyst was used in ancient times to recover from both physical addictions as well as addictive relationships, and became known as the "Stone of Sobriety". A natural stress reliever, Amethyst can encourage inner strength.

The strong healing energy of Amethyst can transmute lower vibrations to higher frequencies, transforming negative energy to love energy.

Amethyst connects the physical plane with higher realm, making it a good choice when working with the Third Eye Chakra. Amethyst also provides a wonderful peaceful energy for meditations, and helps with developing intuition and psychic abilities.

Amethyst opens and activates the Crown Chakra as well, allowing easier access to the divine. Amethyst enhances spiritual awareness and spiritual wisdom, promoting a higher state of consciousness. Amethyst clears and repairs holes in the aura and draws in Divine energy, as well as aligning and fostering cooperation between the energy bodies.

Physically, Amethyst can help to alleviate headaches and migraines. It dispels nightmares and helps with insomnia.
(Please note that each gem is unique in shape and coloration, the pieces you receive will not have the exact appearance as display photo.)
Color: Amethyst
1x in 2g (by volume) Johens jar / approx.: 2g/jar
Each jar contains roughly 2 grams of 2mm - 6mm sized pieces.
With Johens quality control seal.