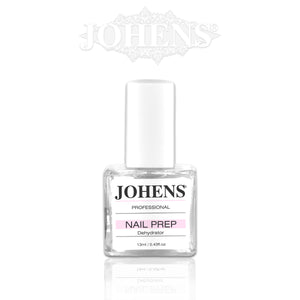 JOHENS®
Nail Prep - Dehydrator (13ml)
Sale price Price $12.75 Regular price
Johens® Nail Prep Dehydrator
Used on natural nails to balance the pH and remove any surface oils.
Nail Prep Dehydrator will temporarily remove moisture and some of the oils from the nail plate layers. 
present in the natural nail before applying a primer. Works great for adhesion of acrylics, gels, and nail tips.
Use:
Apply on the prepared natural nail plate , than let dry out ( the surface turn on matte)
JOHENS EDUCATION extra :
Did you know?
All PH balancer products still working temporarily ( max 15 minutes) than the natural nail plate will change back  to the normal PH. This is why make sure you do apply Johens® Nail Prep Dehydrator right before you apply gel or acrylic.
For Professional use only!
Size: 13 ml / 0.43 fl.oz
Note: Nail Prep Dehydrator is not available Internationally