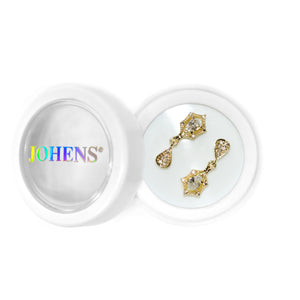 JOHENS®
Nail Jewelry #033
Sale price Price $5.99 Regular price
These beautiful gold jewelry are perfect for accessorizing your nails! We love them!
Material: Metal
Quantity: 2 pieces ---> gold jewelry with Zirkon crystals in Johens jar with quality control seal
Size: 6mm x 17mm 
Color: Gold with Zirkon crystals 
JOHENS® SMARTIES (Did you know?):
- Jewelry 

Jewellery (British English) or jewelry (American English) consists of small decorative items worn for personal adornment, such as brooches, rings, necklaces, earrings, pendants, bracelets, and cufflinks. Jewellery may be attached to the body or the clothes. From a western perspective, the term is restricted to durable ornaments, excluding flowers for example. For many centuries metal, often combined with gemstones, has been the normal material for jewellery, but other materials such as shells and other plant materials may be used. 

Jewelry may be made from a wide range of materials. Gemstones and similar materials such as amber and coral, precious metals, beads, and shells have been widely used, and enamel has often been important. In most cultures jewellery can be understood as a status symbol, for its material properties, its patterns, or for meaningful symbols. Jewellery has been made to adorn nearly every body part, from hairpins to toe rings, and even genital jewellery. The patterns of wearing jewellery between the sexes, and by children and older people can vary greatly between cultures, but adult women have been the most consistent wearers of jewellery; in modern European culture the amount worn by adult males is relatively low compared with other cultures and other periods in European culture.

The word jewelry itself is derived from the word jewel, which was anglicised from the Old French "jouel", and beyond that, to the Latin word "jocale", meaning plaything.