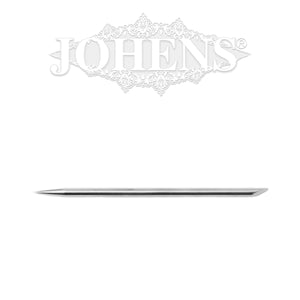 JOHENS®
Metal Stick
Sale price Price $14.10 Regular price
The Must Have reusable stainless steel implant to your salon !!!
best replacement for the old style orange wood sticks which are prohibited in most of the countries with reasons . 



Perfect tool for the perfect manicure
- Helps clean hard to reach areas
- Reusable and economical

- Two different ends stick, spade shape and needle tip.
- Can used for clean the nail bed with both sides / can used for manicure and pedicure.

Metal Stick is versatile sticks that can be used to clean under and around the nail and also push back cuticles for a clean, smooth finish to your manicure. This is great for cleaning up nail polish mishaps with the easiest swipe, especially in those hard-to-reach areas.

Professional use only.

Made in USA