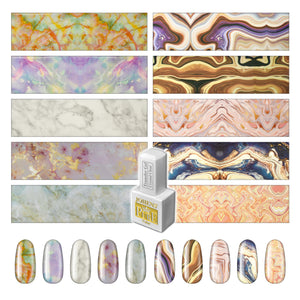 JOHENS®
Marble (Transfer foil) Collection
Sale price Price $32.50 Regular price
LIMITED EDITION! >Offer for Customers only!*<

Johens® proudly presents:
Amazing Marble Transfer foil Collection with GIFT Transfer Gel - Crystal Clear
Original price: $48.50
NOW: $32.50
Collection:
10 amazing transfer foils: P26, P28, P27, P25, P24, P41, P42, P43, P14, P13 
+ PURE Transfer Gel - Crystal Clear (10 ml) 
Our Transfer foils are 38 cm/15 inches in an amazing, elegant package with Johens  quality control seal.
 Gel instructions:
- Apply base coat and cure.
- Apply base color and cure (optional)
- After curing, while the gel is matte and sticky, press the foil, shiny side up onto the nail to transfer the pattern, and then peel off the foil.
- Seal off with a layer of topcoat, shiny or matte for a different look, and cure.
 
Due to monitor differences, the color might be slightly different from the actual item.
Made in USA