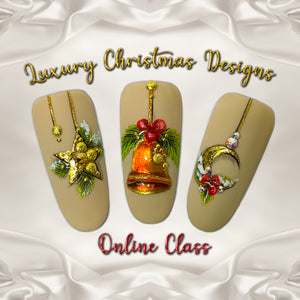 JOHENS®
Luxury Christmas Ornament Designs * Online Class
Sale price Price $75.00 Regular price $125.00
ALMASI™ ART ACADEMY Presents:
Luxury Christmas Ornament Designs Online Class
Beautiful & Luxury Christmas Ornament Designs from Ms Henrietta Almasi for salon use.
Quality: Full HD /60 highest quality for your convenience
Time: 1h 38min / tutorial time
Your access will be sent to the course no later than 24 hours after your payment.
You can choose from 2 options:
- Facebook ---> on FB private group with no time limit access
(Facebook account required) if you are not friends with Henrietta yet please let us know your FB account and we will send an invitation to join the private group. If you are friend already with her she will send you the invitation directly . You will find your Invitation in the notification section.
No worries we will help you going trough :)
or
- YouTube ---> on private link with no time limit access
(GMAIL address required)
Please scroll down on "Style" button
and choose from options!
Certificate: 
You will receive a digital version of Certificate of Participation of this class what you may printing out any time when you feel you need. Please send to an e-mail: info@johens.com with your e-mail address and we will send to you the Certificate.
Note: This class as all classes of ALMASI™ are under TM (Trade Mark) and they aren't  Royalty Free (RF). 
Strictly PROHIBITED:
Recording, Replay in public (personal or event) , Share any technical information ( partially or as full tutorial) , Reteaching without TM owner permit, posting as your own technique and idea.
Thank you for complying with the laws
We reserve the right to refuse service to anyone