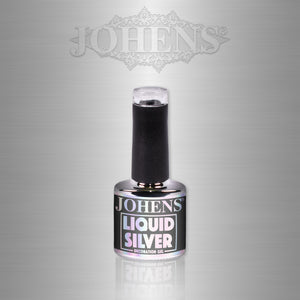 JOHENS®
LIQUID SILVER Decoration gel
Sale price Price $16.75 Regular price
JOHENS® LIQUID SILVER Decoration gel for artwork.
Size: 7ml / 0.23fl.oz
Color: Silver
Recommended brush: JOHENS® Fine Shader Brush or Royal Precision Brush
Create beautiful silver effect nail art using JOHENS® LIQUID SILVER


JOHENS® LIQUID SILVER can be used on either a shiny (tack-free) surface, or matte surface (rustic effect).
How to use: 
Apply JOHENS® LIQUID SILVER to the nail art surface, than let cure under UV/LED lamp. Than you can apply on the top any colors of Optic gels and or Top Shine.
Cure time: 120sec UV/LED

Not suitable for full surface covering (just as all chrome powder and liquid formula), recommended for detailed Nail Art.
If you want coating more then 50% of the full surface please make sure to keep a tiny margin from the critical areas (around cuticle, side walls, free edge) and coat well with gel (Top gel or Hard gel + Top)
For Professional use only!
Keep away from heat, hot surfaces, sparks, open flames and other ignition sources.
Keep out of reach of children. Keep container tightly closed. Store in a well-ventilated place.
Keep cool.
With Johens quality control seal.