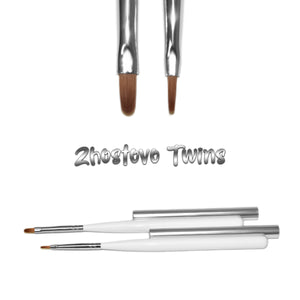 JOHENS®
Johens® Brush #18 * Zhostovo TWINS
Sale price Price $32.50 Regular price
Johens Zhostovo TWIN brushes are perfect and precise products that gives you plenty of new possibilities. These are the brushes for nail stylists who are demanding of themselves and materials they work with. Discover the secrets and beauty of Zhostovo nail art.

LIMITED EDITION 
Johens Zhostovo Twin brushes, that can be used as a normal flat brush, as well as round in a perpendicular position to the surface. These are the best brushes to achieve a transition effect from one color to another. Excellent for "Zhostovo" design, "Silk ", or any gel painting technique.

(Zhostovo is a Russian painting technique not only used for nails, but for all sorts of decoration. The name comes from the village 'Zhostovo' where this painting tradition has started centuries ago using oil paint. What makes the technique so typical is its specific brush strokes, for which you should use mimimum three layers of color.)
 It is Simply The Best precision tool for that Zhostovo technique design for small patterns on small nails.
Hair: High Quality Synthetic / Hand made
Handle: Wood with lid
2 pcs. Zhostovo Brushes in bag
With Johens quality control seal.