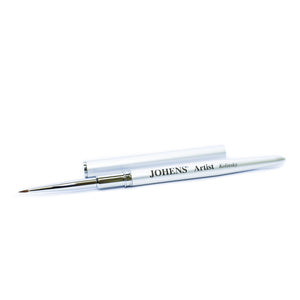 JOHENS®
Johens® Brush #13 * Artist - Kolinsky
Sale price Price $24.00 Regular price
Johens® Artist - Simply The Best Kolinsky brush in the world is made out of highest quality natural hair.
This high quality multipurpose decoration brush is short, rounded with a extra sharp tip. It is a perfect tool to create almost all artistic nail art patterns like 3D shadow-Highlighting effect painting and sophisticated Aquarell.
This brush is so versatile that it can be used with multiple material such as gel, acrylic, water-base and acrylic-base paint.  With this brush you can create and replicate a masterpiece each time.
Before use instructions: Gently scrub off the glue thoroughly from the brush. Then soak it with the nail art material and gently press out all the bubbles from the brush. By following our recommendation, you can expand the lifetime of the brush.
After use instructions: Clean the brush in clean Liquid , water or the Realistic essential fluid. Then let it dry on paper and store it with the pointy peak head down or lay it flat. Otherwise, the Liquid will dissolve the glue from the brush handle which will color or contaminate the brush.

Tip: Use Brush Elixir for keep in excellent condition for your Kolinsky hair of brushes.
Brush with lid as set
Color: White Platinum
Hair : Premium Kolinsky by Johens
All Johens brushes is Hand Made unique masterpieces.
With Johens quality control seal.