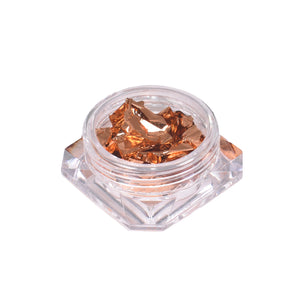 JOHENS®
Gold Leaf #03
Sale price Price $3.75 Regular price
Gold leaf nail art allows you to create glitzy and shimmering designs on natural nails and nail enhancements such as acrylic, UV/LED gel and fibreglass nail extensions. The shiny colored gold leaf give a really classy look to the nails, making it perfect for special occasions such as parties, wedding and other special events.
Johens gold leaf colors: Gold, Silver, Rose gold, Platinum, Champagne, Gold marble, Red, Pink, Purple and Blue.
Johens Gold leaf foil nail art is simple, easy and very quick to apply, and can dramatically change the look of the nails instantly for a smart and sophisticated nail art design. By simply rubbing the gold leaf onto the nail you can create a smooth coat to the nails, or you can use stencil guides to create shiny shapes across the nail surface.
With all this at your fingertips, you can create amazing and truly unique designs. When the gold leaf has been applied, it is advisable to coat the designs with clear top coat to ensure that the designs stay in place.
Color: Rose gold
Due to monitor differences, the color might be slightly different from the actual item.
With Johens quality control seal.