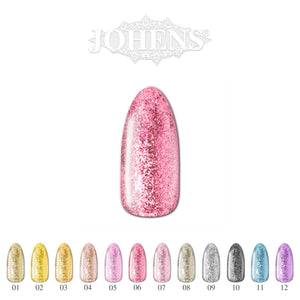 JOHENS®
Full Diamond Soak Off Gel #06
Sale price Price $19.00 Regular price
Sparkle with JOHENS® Full Diamond soak off gel in beautiful vibrant diamond shades.
This line of glitter soak off gels is specially formulated to allow for a smooth application. Glitter lays flat to reflect the most amount of light resulting in a foil like effect. Full Diamond is a super saturated full coverage glitter gel. Sparkle with 
Stronger sparkling effect, more than ever, in 12 really classy and wild colors. 
Curing time: LED Light - 60sec /UV Light (36W) - 120sec
Size: Each jar contains 6g/0.21oz of Full Diamond gel 
Color: Hot pink
For professional use only.
Store in a cool, dark place away from any direct light sources for longevity.
PLEASE NOTE: Due to the many variations in monitors and browsers, color samples may appear different on different monitors. We do our very best to make sure pictures shown are as close to the exact product as possible, but cannot guarantee that what you see is an exact match. Due to monitor differences, the color might be slightly different from the actual item.
With Johens quality control seal.
Made in USA