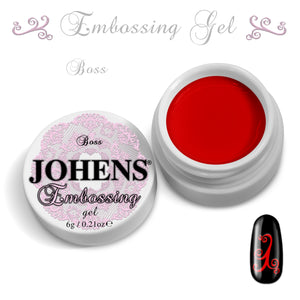 JOHENS®
Embossing Gel - Boss
Sale price Price $19.00 Regular price
The motionless art gel! incredibly high pigmentation, dense, cleansing free paint gel. You can work with it for (almost) an unlimited time, doesn't flow, doesn't move. Vivid, powerful colours even for contouring.
There is no need to be an artist with these magnificent array of color gels!
As everlasting polish or to create beautiful nail masterpieces, our Embossing Gel stays shiny and makes nail art easy to do. With 9 colors to choose from,Embossing Gels let your imagination create "designer" nails with ease.  See color chart for availability. 
Best to use with our JOHENS® Perfect line brush
-UV/LED system.
-Hard decoration gel
-Color: Red
-Size: 6g / 0.21oz in JOHENS® jar with unique logo printed.

-Curing time 2-3 mins in UV, 1-2 mins LED
-For professional use only.
Store product in shaded area and avoid direct sunlight. If any irritation or allergy occurs, stop use immediately.
With Johens quality control seal.