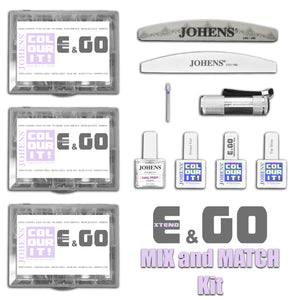 JOHENS®
E&GO MIX and MATCH Kit
Sale price Price $169.89 Regular price
20%off with discount code: JHNS20
E&Go MIX and MATCH Kit as You wish!
Create Your Own kit!
Please select 3 E&Go Tips of these and enter them in the NOTE section of your order:
1. Fancy Coffin tips 
2. Salon Stiletto
3. New Square
4. Modern Almond
5. Milky Stiletto
6. Extreme Stiletto
7. Extreme Coffin
8. Active Stiletto - Blush
9. Active Stiletto - Marshmallow
All in one / everything what you need in one kit !!!

Bundle the best-sellers together and save.
This kit includes everything you'll need to create stunning salon service that last 4 weeks or longer, plus : E&Go system is absolutely made for refillable service (you don't have to soak off every time when your costumer come to the new appointment). Application is simple and with a little practice gets easier every time.
Set is comes 3 x E&GO Tips what as YOUR CHOOSE!!!
Set including:
- E&Go Adhesive gel ( in our famous Colour It! bottle with soft hair brush for a hassle-free application) 13ml
- Colour it! Top Shine (no wipe) 13ml 
- Nail Prep - Dehydrator 13ml
- Colour it! Primer Gel  13 ml
- 3 box of tips: Please select 3 E&Go Tips and enter them in the NOTE section of your order

- Johens® Nail file 150/180 white
- Johens® Soft file 150/180 (Buffer)
- E&Go Flash Cure lamp (special made with strong led)    /battery not included/
- E&Go Special E-File bit
E&Go is a soak off gel system (pre-shaped Soft Shell tips + Adhesive gel) witch is the easiest nail extension at your fingertips!
E&Go Gel is new and improved 100% soak of gel and easily the most important material to own.
The renowned formula is provide the Best Adhesive results in the world !!!
The E&Go Gel secures the E & Go tips to the natural nail quickly and securely. This unparalleled E&Go Adhesive gel ensures that the tip won't lift, crack, or pop off the natural nail for as long as four weeks. 
The E&Go Gel  and tips are formulated with soft-gel which means it is simple to remove by using Acetone or Tip Remover. 
 -All E&Go Gels and E&Go Tips are Soak Off  /Soaking time around 13-15 min
-UV 120sec /LED 60sec
With JOHENS® quality control seal.
For professional use only.
Store in a cool, dark place away from any direct light sources for longevity.
Due to monitor differences, the color might be slightly different from the actual item.