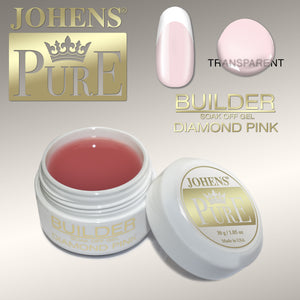 JOHENS®
PURE ~ Builder soak off gel ~ Diamond Pink
Sale price Price $36.90 Regular price
PURE Hypoallergenic Builder soft gel 
THE BEST BUILDER SOAK OFF GEL ON THE MARKET!
Diamond Pink , extraordinary UV/LED builder gel with perfect adhesion and high flexibility without the burn-feeling. Formulated with high-quality resins that won't crack or chip.
Thanks to the popular thicker consistency is really easy and fast to work with. Perfect harmony of its qualities make this gel the best solution for you! 
Great for clients with sensitive nails or first-time gel users.
Excellent self leveling properties ensure a minimization of lifting and imperfections.
It hardens in 120 seconds in normal UV light devices and in 60 seconds in LED light curing units.  All are subject to the high demands of USA and European standards and are on the cutting edge of the UV-gel LED research manufactured.
Formulated using oligomers that result in a safe and hypoallergenic product for clients.
Use with the PURE Rubber base as perfect application.
PERFECT GEL FOR YOU:
REDUCED HEATING
NON-YELLOWING
NO LEAKING INTO THE NAIL BED
EASY AND FAST MODELING
IDEAL FOR ALL SALON SIZE NAILS ( AS OVERLAY,  USE ON TIPS OR MODELLING ON FORM)
SAVES TIME
OPTIMAL FLEXIBILITY
PERFECT ADHESION
UV-LED-CCLF lamp
ACID FREE
HEMA FREE, VEGAN 
HYPOALLERGENIC FORMULA
30g  in jar
Cure time in UV lamp 2 mins, in LED: 60 sec.
Due to monitor differences, the color might be slightly different from the actual item.
For professional use only! Keep out of reach of children. Discontinue use if sensitivity or irritation occurs. Avoid direct sunlight or extreme exposure to LED or UV lights.