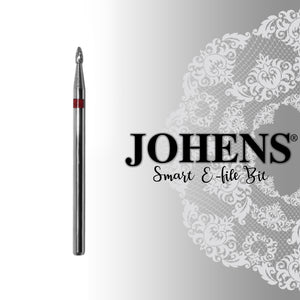 JOHENS®
Cuticle Cleaner - Fine
Sale price Price $18.00 Regular price
Cuticle Cleaner/  -Fine e-file bit
 An essential tool for nail preparations
 Made for e-files with a 3/32" collet closing mechanism. 
Sanitize and disinfect Cleaner bits like any other standard carbide bit. 
This bit is great for all levels of nail techs, but is recommended for experienced e-filers because of its shape.
Remember a light touch is all that's needed when using professional e-files and bits. 
-one directional (for Right Hand use only)
With JOHENS® quality control seal.
For professional use only.
Store in a cool, dry and dark place away from any direct light sources for longevity.
Due to monitor differences, the color might be slightly different from the actual item.
  All e-file bits may cause harm if used not properly. All e-file bits on this website are quality professional tools that are designed to be used by trained manicurists. If you do not know how to use e-file bits then please seek professional training. We are not responsible for damage using these e-file bits by people performing e-file manicures. You purchase this e-file bit knowing and understanding the dangers involved in tools.