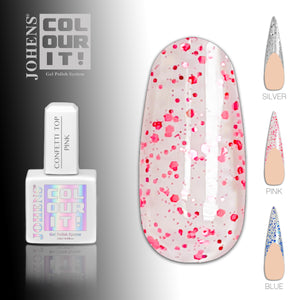 JOHENS®
COLOUR IT! Confetti Top ~ Pink
Sale price Price $18.95 Regular price
Johens® COLOUR IT! Confetti Top ~ PINK Glittery Top Coat Gel
COLOUR IT Top Shine is a no-wipe gel top coat what specially formulated to offer a durable, long lasting high shine finish .
Scratch resistant
100% pure soak off gel with 100% self-leveling formula without shrinking effect.
The Newest Innovation in the Nail Industry in the world exclusively from JOHENS®
Made in USA
Formulated to coat and protect the natural nail COLOUR IT delivers ease of application along with maximum control. COLOUR IT is the perfect choice for a long lasting gel manicure or pedicure.
Benefits of COLOUR IT! CONFETTI TOP:
designed to smooth over unevenness of the nail surface

Extremely high shine !!!
Creamy consistency applies without running
More economical - Full 13 ml bottles 
100% gel offers more strength and durability than most half-polish hybrid gel polish

long lasting high shine /3-4 weeks/

Easy soak off removal
Best used with our COLOUR IT colors
UV lamp: 2 minutes
LED lamp: 30-45 secs / depending on your lamp /
13 ml / 0.44 fl.oz
With JOHENS® quality control seal.
For professional use only.
Store in a cool, dark place away from any direct light sources for longevity.
Due to monitor differences, the color might be slightly different from the actual item.