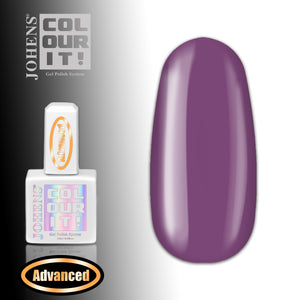 JOHENS®
COLOUR IT! #177 (Advanced)
Sale price Price $18.99 Regular price
Johens® COLOUR IT! gel polish is 100% pure soak off gel
Advanced extra rich of pigments and 100% self-leveling formula without shrinking effect. As all advanced hyper pigmented gel, you must have to apply it as super thin layer and let wait 10 sec to let fully self leveling before you place it into the lamp.
The Newest Innovation in the Nail Industry in the world exclusively from JOHENS®
Made in USA
Formulated to coat and protect the natural nail COLOUR IT delivers ease of application along with maximum control. COLOUR IT is the perfect choice for a long lasting gel manicure or pedicure.
Benefits of COLOUR IT Gel Polish:
Doesn't dry or out the natural nail because it contains no solvents
Creamy consistency applies without running
Layers can be floated on & applied thicker to self-level for smooth even coverage 

Densely pigmented colors designed for the one coat coverage

No need to apply super thin does not wrinkle when curing
Beautiful Designer colors by designers from Italy 
More economical - Full 13 ml bottles 
Highest quality of NANO pigments for unique colors that stay true
100% gel offers more strength and durability than most half-polish hybrid gel polish
Easy soak off removal
Best used with our COLOUR IT base and top gels:
Troubleshooting:
-We do recommending to apply super thin layer (1/2 quantity than our normal Colour It! or 1/4 of any average gel polish)
-If the gel have curing problems please try to apply more much less as you made or check your lamp.
-This is a real gel ( not hybrid) so they need professional lamp to cure.
UV lamp: 2 minutes
LED lamp: 60 - 90 secs / depending on your lamp / please test cure time in your lamp before you apply on costumers.
13 ml / 0.44 fl.oz
With JOHENS® quality control seal.
For professional use only.
Store in a cool, dark place away from any direct light sources for longevity.
Due to monitor differences, the color might be slightly different from the actual item.