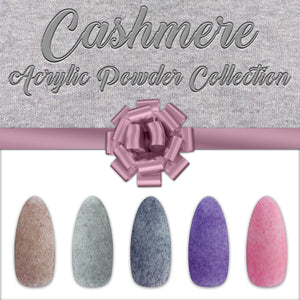 JOHENS®
Color Acrylic Powder - CASHMERE Collection
Sale price Price $42.75 Regular price
20%off with discount code: JHNS20
 Johens® Acrylic powder CASHMERE Collection:
- #039
- #040
- #041
- #042
- #043
JOHENS® Acrylic Powder System is developed to self level and create a flawless finish. Intensely pigmented colored acrylic polymer specially designed and formulated for acrylic art. This product has superior adhesion and shows true color. Our perfectly fine acrylic powder has great work ability; which allows for a bubble free, even toned look.

Create 3D designs, extreme nail art, or even substitute the traditional French manicure for one of these gorgeous shades!

We bring you a special high-tech system connecting powder 
(polymer) and Liquid (monomer), which provides excellent way of modeling of acrylic nails, while ensuring plasticity and perfect texture. New technology presents stop yellowing and fading element to brightening ingredients. Acrylic powders are of the softest, buttery texture and make the work with them much more enjoyable as the use is very easy.

-PERFECT TEXTURES 
-SIMPLE AND BRIGHT HANDLING
-BRIGHT COLORS
-NON-YELLOWING
-NOT CREATING ADVERSE BUBBLES!
-CONSISTENCY OF THE BEST QUALITY
-SUITABLE FOR COMPETITION 

Attention!
Continuously expanding color selection!

Size: 5 x 15g / 0.53oz
Store in a cool, dark place away from any direct light sources for longevity.
Due to monitor differences, the color might be slightly different from the actual item.
Made in USA