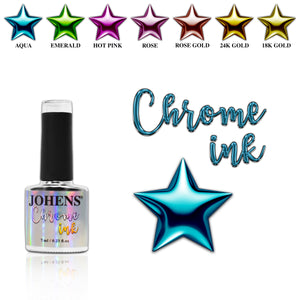 JOHENS®
Chrome Ink #001 - Aqua
Sale price Price $16.75 Regular price
JOHENS® CHROME INK is an AIR DRY Ink for artwork.
Size: 7ml / 0.23fl.oz
Color: Aqua
Recommended brush: JOHENS® Fine Shader Brush or Royal Precision Brush
Create beautiful chrome effect nail art using JOHENS® CHROME INK.


JOHENS® CHROME INK can be used on either a shiny (tack-free) surface, or matte surface ( rustic effect).
Apply JOHENS® CHROME INK to the nail art surface.
Once INK has dried completely (approx. 2-3 min), topcoat with Top Shine Gel.
If you'd like a MATTE finish, you can use our Silk matte top gel.

Not suitable for full surface covering (just as all chrome powder and liquid formula), recommended for detailed Nail Art.
If you want coating more then 50% of the full surface please make sure to keep a tiny margin from the critical areas (around cuticle, side walls, free edge) and coat well with gel (Top gel or Hard gel + Top)
TIP:
Under warm UV/LED lamp will dry quickly because of warmer temperature
For Professional use only!
Keep away from heat, hot surfaces, sparks, open flames and other ignition sources.
Keep out of reach of children. Keep container tightly closed. Store in a well-ventilated place.
Keep cool.
With Johens quality control seal.