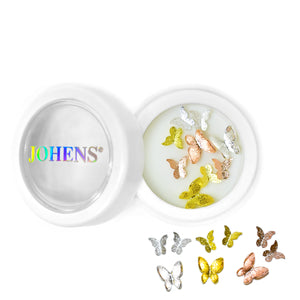 JOHENS®
Charms #031
Sale price Price $6.25 Regular price
These beautiful butterfly nail charms are perfect for accessorizing your nails! We love them!
Shape: 3D Butterfly 
Material: Metal
Quantity: 9 pieces in Johens jar with quality control seal
In the jar:
- 1x large Silver butterfly + 2x small Silver butterflies
- 1x large Gold butterfly + 2x small Gold butterflies
- 1x large Rose gold butterfly + 2x small Rose gold butterflies
 
Color: Gold, Silver and Rose gold
With Johens quality control seal.
JOHENS® SMARTIES (Did you know?):
 - Nail Art
Designing or creating "art" directly on the fingernail; can be created with polish, paints, colored acrylics or gels, and embellishments. Whether it's airbrush, decals, embedded acrylics, or appliqués, nail art is the medium that enables nail technicians to express their creative side and to design for the unique personality of their client. For clients, nail art is memorable and personal, and for you, the nail technician, it is the perfect way to boost business.