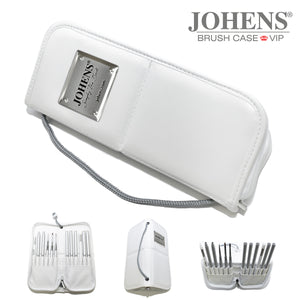 JOHENS®
Brush Case * VIP
Sale price Price $24.00 Regular price
Protect your Johens brushes with The JOHENS® Brush Case * VIP
JOHENS® Brushes here.

This case is designed to hold all of your Johens brushes in place.
The unique folding design easily converts this case into a stand, allowing for perfect function at your manicure table.


This stunning table-top brush case is perfect for compact organized storage of the brushes you use most at your workstation.
Easy to clean and disinfect! (Use alcohol or warm water)

The 3-sided zip closure keeps the content inside when traveling, and the open pitched setup allows you to access your brushes quickly and keep them organized while you work.

This case is 9.25 inches by 3.75 inches by 1 inch when closed, 9.25 inches by 8.5 inches when flat and 8.5 inches wide by 5 inches deep and stands up to 4.5 inches high without brushes. You can hold over 12 brushes, with the 12 pockets.
Color: Off white with Exclusive VIP Platinum Logo
 Available: White smooth surface PU Leather with Johens logo and Johens quality control seal.
Made by JOHENS® California
(Please note this is for the brush case only and does not include the brushes.)