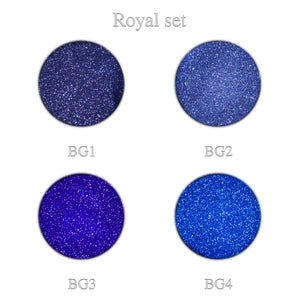 JOHENS®
Blue glitter Royal set 4pcs.
Sale price Price $12.00 Regular price
Blue glitter  -  Royal set 4pcs
The highest quality cosmetic micro glitter you can find!
They can be used with nail polish, gel or acrylic. 
Those glitters is 100% Cosmetic Grade in size and material ( safe for salon use ) 
It is solvent resistant, which means it won't bleed or fade when working with gel or acrylic.
Recommended applicator brush here
Gel Application:
Apply base color (optional)
Sprinkle with glitter
Shake off excess glitter
Cure with UV/LED lamp
Apply JOHENS® Top gel on the tips or the entire nail (optional)
Cure & done!
those colors is in the JOHENS standard 2g (by volume) jar / approx 1.2 gram
Set include 4 jars
It's extreme fine and looks amazing over pretty much any color you can imagine.