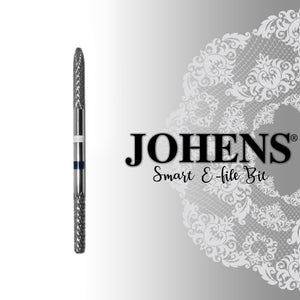 JOHENS®
World Class - Refill Dual bit
Sale price Price $37.00 Regular price
World Class - Refill Dual bit
Exclusive model, designed by Henrietta Almasi / Word Champion Nail Artist /
Exclusively made by JOHENS®
Two in One professional tool for refill all nail enhancement or gel polish manicure.
This unique Refill Dual Carbide bit is designed for quick and energy saver salon work to make a perfect refill to your costumers.
All in one because one side is perfect to remove any lifted material (blue side) and the other side is ready to prep the natural nail plate (white side).
 Made for e-files with a 3/32" collet closing mechanism. 
 Special engineered shape and cut to make perfect smoothing motions between nail plate and material, and make easy all movements. This means there's very little heat when removing product.
Sanitize and disinfect this bits like any other standard carbide bit. 
This bit is great for all levels of nail techs, but is recommended for experienced e-filers because of its shape.
Remember a light touch is all that's needed when using professional e-files and bits. 
-one directional (for Right Hand use only)
Grit:   white : special fined 
          blue: medium - fine 
With JOHENS® quality control seal.
For professional use only.
Store in a cool, dry and dark place away from any direct light sources for longevity.
Due to monitor differences, the color might be slightly different from the actual item.
 All e-file bits may cause harm if used not properly. All e-file bits on this website are quality professional tools that are designed to be used by trained manicurists. If you do not know how to use e-file bits then please seek professional training. We are not responsible for damage using these e-file bits by people performing e-file manicures. You purchase this e-file bit knowing and understanding the dangers involved in tools