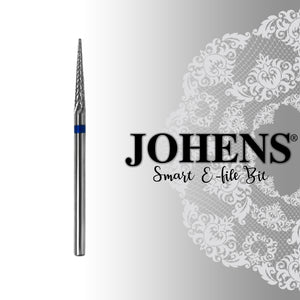 JOHENS®
European Edge / Medium
Sale price Price $17.50 Regular price
European Edge / Medium
This Edge bit is an essential tool in your salon
The long slender shape is perfect for cleaning the side walls, underneath and any press on nail retouch.

Super thin end make easy to clean up the sidewalls and the cuticle area from any excess product or the remain hangnail part .
Size: 12mm , 0.4-1.8mm
Right hand version
Made for e-file machines with a 3/32" collet closing mechanism.
With JOHENS® quality control seal.
For professional use only.
Store in a cool, dry and dark place away from any direct light sources for longevity.
Due to monitor differences, the color might be slightly different from the actual item.
 All e-file bits may cause harm if used not properly. All e-file bits on this website are quality professional tools that are designed to be used by trained manicurists. If you do not know how to use e-file bits then please seek professional training. We are not responsible for damage using these e-file bits by people performing e-file manicures. You purchase this e-file bit knowing and understanding the dangers involved in tools.